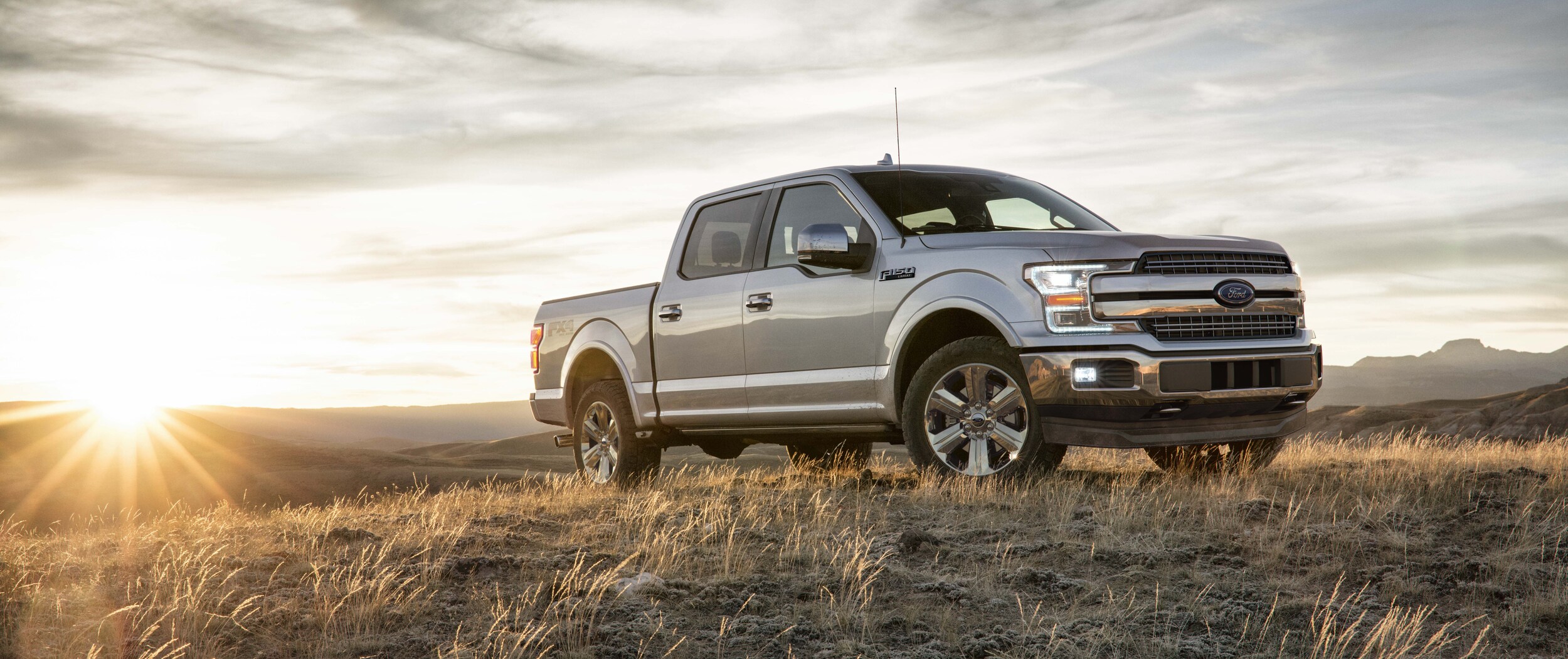 Believe it or not, not every person in the world performs the necessary scheduled maintenance on their Ford F-150. Not performing scheduled maintenance on your truck can lead to major repair expenses resulting from neglect/inadequate maintenance. To prevent this from happening, Ford Motor Company has created a list of established regular maintenance intervals for your 2019 F-150. The recommended service schedule that Ford has created is based on two things, keeping your F-150 reliable and keeping the cost of owning your vehicle down. Keep reading to learn about the recommended services and why you should trust Bill MacDonald Ford to perform them.
WHAT TO CHECK EVERY MONTH

Air filter restriction gauge

Engine oil level

The function of all interior and exterior lights

Tires (including the spare) for wear and proper pressure

Fuel and water separator. Drain if necessary or if indicated by the information display

Holes and slots in the tailpipe to make sure they are functional and clear of debris
WHAT TO CHECK EVERY SIX MONTHS

Battery connections (clean if necessary)

Body and door drain holes for obstructions (clean if necessary)

Cooling system fluid level and coolant strength

Door weatherstrips for wear, lubricate if necessary.

Hinges, latches and outside locks for proper operations (Lubricate if necessary)

Parking brake for proper operation

Safety belts and seat latches for wear and function

Safety warning lamps, brake, ABS, airbag, and safety belt for operation

Washer spray and wiper operation (clean or replace blades if necessary)
?
WHEN TO SCHEDULE SERVICE

The 2019 Ford F-150 comes with the Intelligent-Oil-Life Monitor system, which displays a message in the information display when your truck is ready for an oil change. When the oil change message appears, make sure that you schedule your appointment within two weeks or 500 miles. After your Ford F-150 has its oil changes, make sure to reset the Intelligent-Oil-Life Monitor. Most F-150s will show the oil change message between 7,500 and 10,000 miles for "normal use" owners. (See below for examples of normal, severe, and extreme use.) If the display of your vehicle shows the message prematurely, you should have oil changes performed at least every six months or 5,000 miles.
Normal Use Example: Normal Commuting with highway driving. Nor, or moderate, load or towing. Flat to moderately hilly roads. No extended idling.

Severe Use Example: Moderate to heavy load or towing mountainous or off-road conditions. Extended idling. Extended hot or cold operation.

Extreme use Example: Maximum load or towing. Extreme hot or cold operation
When you bring your 2019 Ford F-150 to Bill MacDonald Ford for its scheduled oil change, you should also request the following services performed:
Check/Change Filter

Rotate tires, inspect wear and measure tread depth

Multi-point vehicle inspection

Check accessory drive belt/belts

Check Battery

Check Engine Air Filter

Check Exhaust System

Check Exterior Lamps

Check and Fill Fluids

Check Horn Operation

Check Hoses

Check Suspension

Check Steering and LInkage

Check Tires

Check Windshield

Check wash spray and wiper operation

Inspect the brake pads, shoes, rotors, drums, brake linings, hoses, and parking breaks

Inspect the engine cooling system strength and hoses

Inspect the exhaust system and heat shields

Inspect the front axle and U-joints. Lubricate if equipped with grease fittings

Inspect the half-shaft boots

Inspect the steering linkage, ball joints, suspension, tire-rod ends, driveshaft, and U-Joints. Lubricate any areas with grease fittings.

Inspect the wheels and related components for abnormal noise, wear, looseness, or drag.

Fuel and water separator, drain if necessary

Refill the diesel exhaust fluid tanks (diesel trucks only)

Inspect the air filter restriction gauge and replace it if necessary.
OTHER SCHEDULED MAINTENANCE YOUR F-150 WILL NEED
Every 20,000 Miles: Replace cabin air filter. Tire Alignment
Every 30,000 Miles: Replace engine air filter. Replace the engine-mounted and frame-mounted fuel filters.
Every 100,000 Miles: Replace spark plugs. Inspect accessory belts
Every 150,000 Miles: Change automatic transmission fluid and filter. Change front axle fluid (4WD trucks). Change rear axle fluid. Change transfer case fluid (4WD trucks). Replace fuel pump drive belt (diesel only). Replace the timing belt (diesel only).
At 200,0000 miles: Change engine coolant.
Now that you know what is needed, there is no reason your 2019 Ford F-150 should go without its recommended services. At Bill MacDonald Ford, we have factory-trained and Ford certified technicians ready to perform the necessary services on your vehicle. Our dealership also stocks Ford parts and authorized branded re-manufactured replacement parts. Authorized branded re-manufactured replacement parts are parts that meet or exceed Ford specifications. Ford and authorized branded parts installed at Bill MacDonald Ford carry a nationwide 24-month or unlimited mile parts and labor limited warranty. If you do not use our authorized parts, they may not meet our specifications and depending on the part, it could affect emissions compliance if you live in a state that monitors them.


Source:
http://www.fordservicecontent.com/Ford_Content/vdirsnet/OwnerManual/Home/Content?bookCode=O58053&countryCode=USA&languageCode=en&marketCode=US&viewTech=IE&chapterTitleSelected=G1645103&subTitleSelected=G2052899&topicHRef=G2052900&div=f&variantid=6500&vFilteringEnabled=False&userMarket=USA