DIAL UP YOUR EXPECTATIONS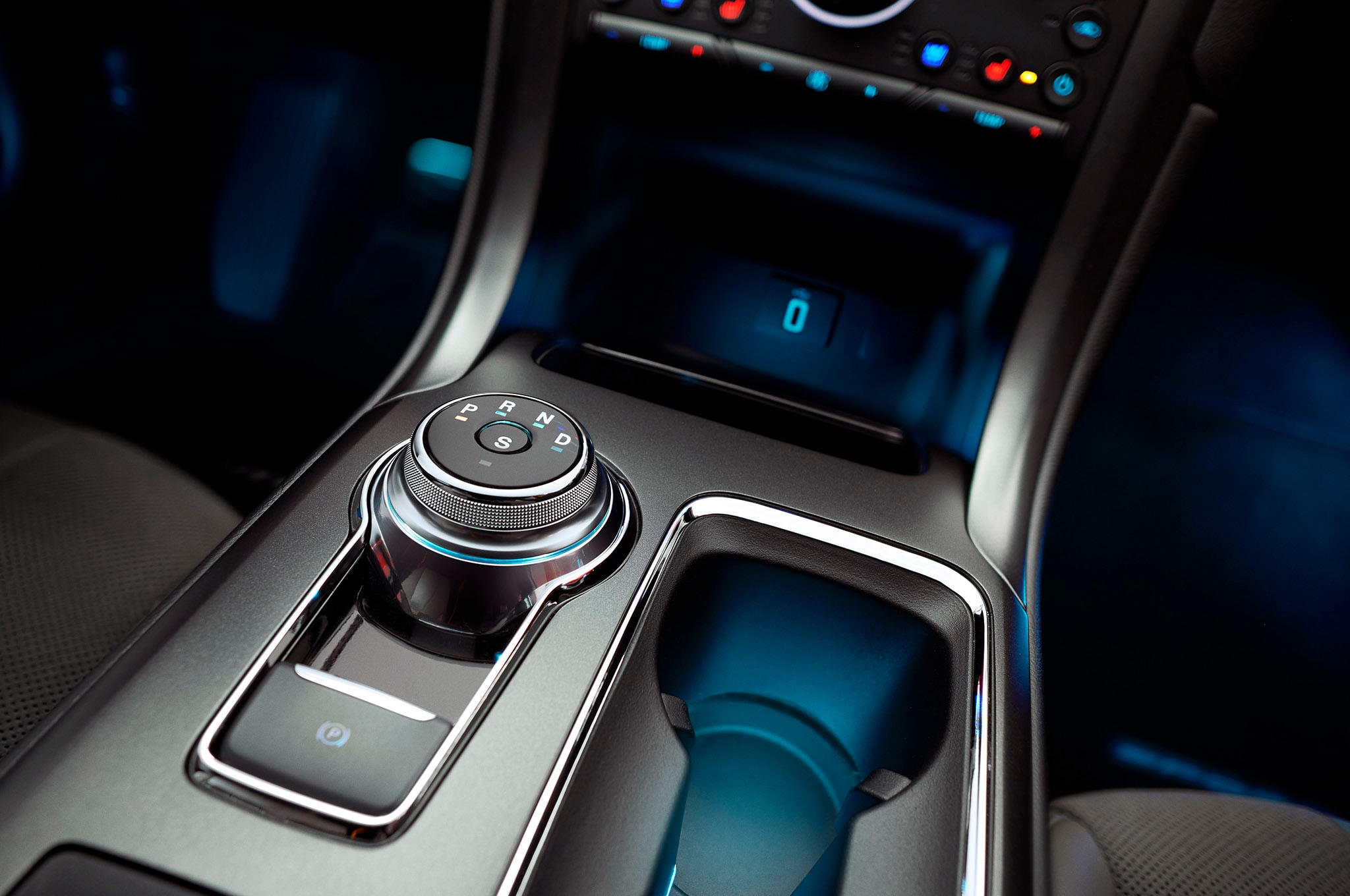 Say goodbye to the old and hello to the new with the 2017 Ford Fusion. Compared to the 2016 year model, the 2017 Fusion went through some pretty serious changes. One of the more noticeable changes is the all new rotary style gear shift. Ford went ahead and said good bye to the traditional gear shift, and replaced it with a circular one. This new gear shift allows owners to have more cabin space and also more storage space in the passenger/driver area of the car. All 2017 Fusions also have touch to start technology.
---
STRONGER THAN EVER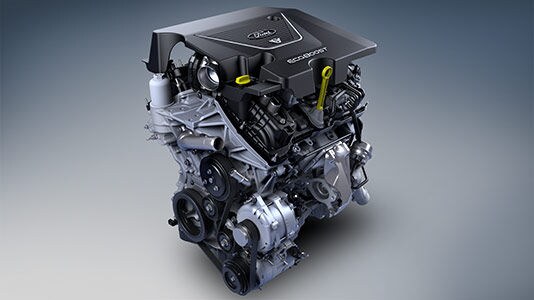 The Fusion engine lineup has never been stronger than it is right now. A potent new 325-horsepower 2.7L EcoBoost engine - exclusive to the V6 Sport & also the most powerful EcoBoost Engine ever on the Fusion is by far the top of the four engine options for the 2017 Fusion. If the V6 sport is not what you are looking for, but you still want power...don't worry, we have other options including 3 turbocharged, direct injection EcoBoost Engines that are sure to satisfy all of your power cravings. Not only are the engines stronger than ever, we have also changed the way power is engaged. Once you use the new rotary dial to shift into drive, you can stop there if you want, or you can tap the "S" button on top and control the shift points yourself with steering wheel-mounted paddle shifters.   
---
GET CONNECTED WITH SYNC 3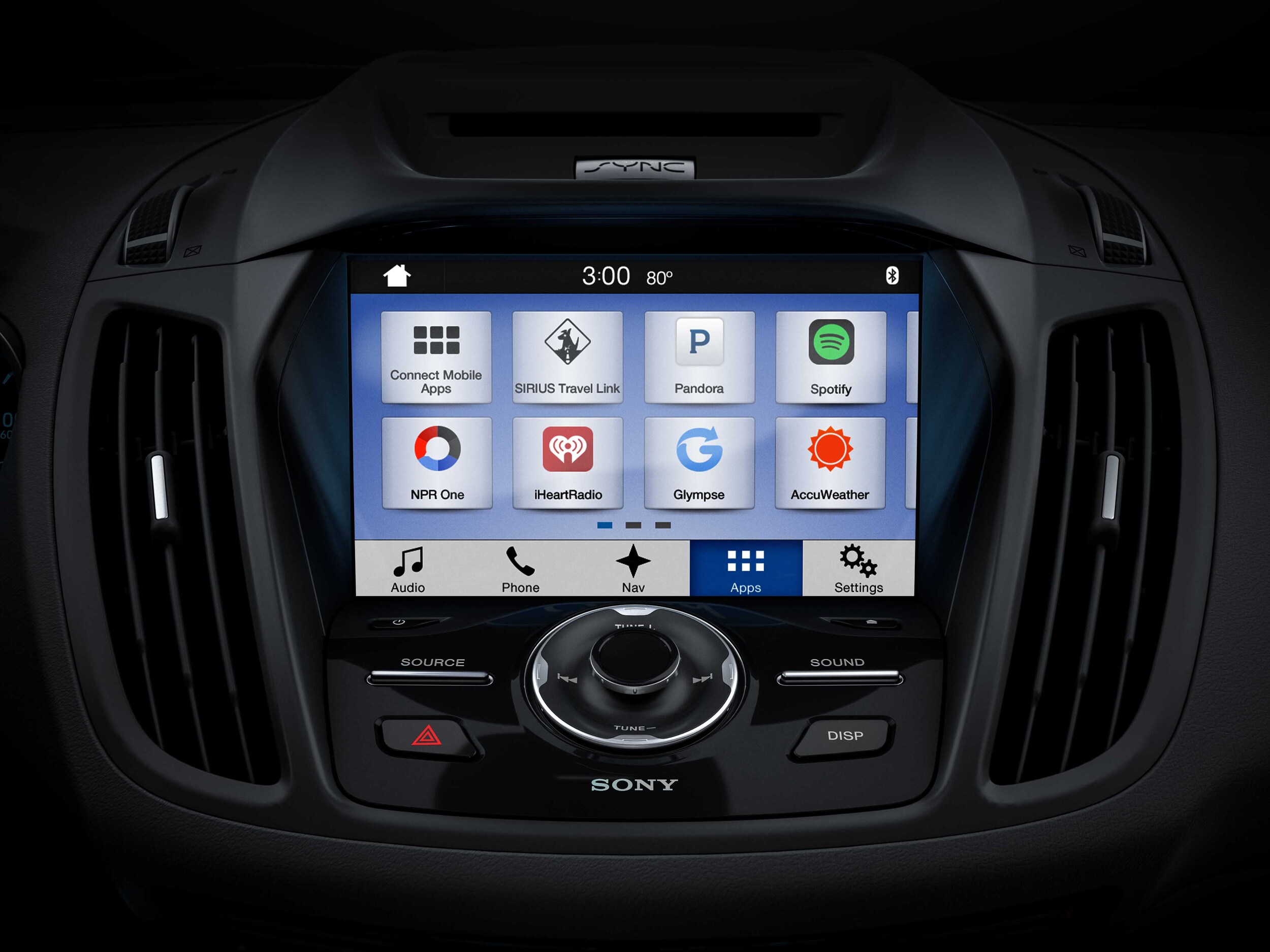 In addition to all the voice-activated benefits of SYNC - placing and answering class, and controlling music from your devices -- you'll love the easy-to-use interface of SYNC 3. An 8" color LCD screen (on select models, some models use a smaller screen) displays phone, audio, and navigation features. Enhanced voice recognition lets you give simple commands. A capacitive touchscreen includes a convenient swipe feature, as well as pinch-to-zoom functionality within navigation. When you have a SYNC Connect equipped Fusion, you can use Ford's new app, FordPass, to track your vehicle's location and remotely access features like start, lock and unlock, vehicle location, and vehicle status include fuel level and approximate mileage. You can also use FordPass to remotely start your car in the future, just like an alarm clock for your car.  
---
ENTHUSIASTIC EFFICIENCY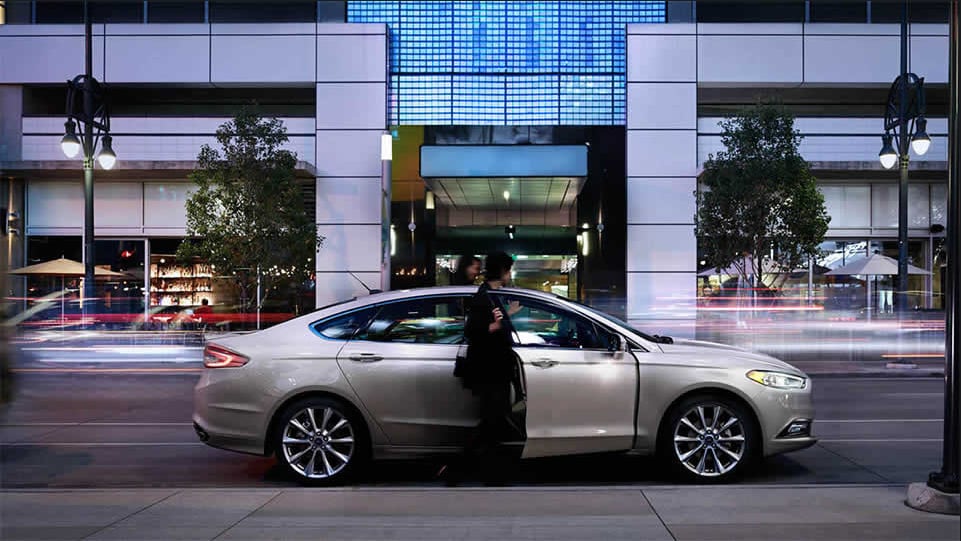 Everyone knows that only one can be the best, and the editors at U.S. News and World Report named the Ford Fusion Hybrid, the best hybrid car for the money. The Fusion Hybrid maximizes efficiency by seamlessly switching between its gas engine and electric motor. Inside, you will find the SmartGauge with EcoGuide instrument cluster actually grows green "efficiency leaves" as you drive. The more efficiently you drive, the more the leaves grow. Not only does the Fusion Hybrid give you instant feedback, it is also able to recover 94% of the energy spent during braking and use it to recharge the battery thanks to the Regenerative Braking System. The Fusion Hybrid is also equipped with a lithium-ion battery, allowing it to reach speeds up to 85 mph when in electric mode. 
---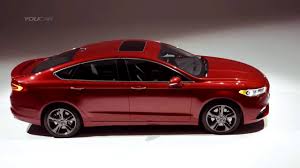 The all new Fusion V6 Sport is ready to greet the street with 325 horsepower. Its distinct appearance is backed by a new 2.7L EcoBoost V6 engine, the most powerful engine ever offered on a Fusion, and a paddle-shifted 6-speed SelectShift automatic transmission. To handle all that thrust, a modified sport-tuned suspension and standard Intelligent all-wheel drive can combine to deliver a taut ride, precise cornering, and extreme road-holding finesse. In order to help you adapt quickly to changing road conditions, the V6 Sport features continuously controlled damping with new pothole detection. 12 different sensors in the system read the road- and your driving input - every 2 milliseconds, then quickly adjust the firmness and damping at all 4 corners to help the Fusion be in better harmony with the road surface. If a pothole is detected, the system reacts so quickly that it can adjust the shock absorbers to help reduce the severity of impact to vehicle occupants. Hit the Sport setting to tighten suspension tuning, firm up steering calibration, and enjoy a more powerful engine sound inside the cabin -- all while feeling more connected to the pavement.
---
KEEPING YOU SAFE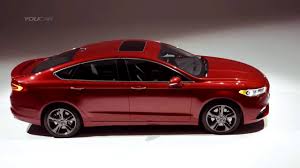 The 2017 Ford Fusion is all about making sure you make it to wherever you have to go, safely. The Fusion is able to sense what you cannot see using its Blind Spot Information System. When you have the Blind Spot Information System activated in your Fusion your vehicle will alert you with a light in either side-view mirror if its radar sensors detect a vehicle in the corresponding blind spot. Another amazing feature is the cross-traffic alert which alerts you with a beep and warning light in your side-view mirror if it detects a vehicle approaching either side as you slowly back out of a parking space. The Fusion also has the ability to make sure that you stay centered while driving. With a new lane keeping system, the Fusion is able to detect lane markings and apply torque to the steering wheel if it senses your vehicle drifting unintentionally out of its lane. The lane keeping system can also send gentle vibrations to the wheel to prompt you to steer back towards the center of your lane. If it detects that you have come too close or crossed the makers multiple times, the Driver Alert System will display a coffee cup icon to suggest taking a break from driving. The Adaptive Cruise Control with stop and go technology used advanced radar technology to scan for slower vehicles in front of you. It can automatically adjust your vehicle's speed to maintain a preset gap from that vehicle. The system can be used at both high and low speeds, and can even follow the vehicle in front of you to a complete stop. The Fusion will also alert you to take action if it suspects a collision is near. The pre-collision assist with pedestrian detection including collision warning, brake support, and active braking fuses information from a forward facing camera and radar technology to help in various driving situations. The system monitors the proximity of the Fusion to other vehicles, and also pedestrians. If a potential collision is detected, a collision warning can alert you with visible and audible signals, so you can take action before it's too late. If needed, brake support will pre-charge and increase brake-assist sensitivity to provide full responsiveness when you do brake, and if the system determines a collision is imminent, active braking may automatically apply the brakes. 
---
GO PLATINUM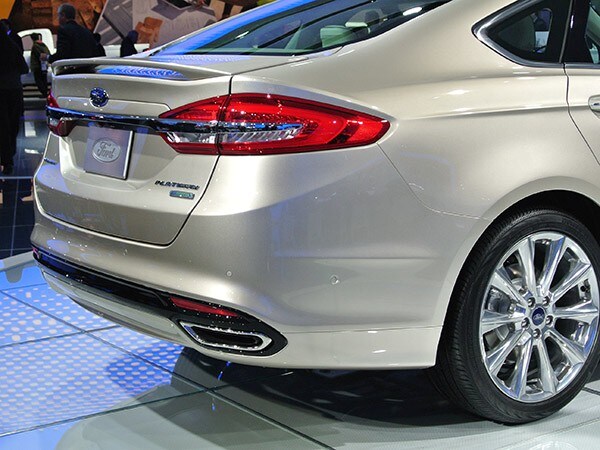 Rarer even than gold, platinum signifies ultimate luxury. One look inside and you'll know how the Fusion Platinum got its name. In addition to the standard leather-trimmed heated and cooled front seats in medium soft ceramic, the instrument panel and center console are leather wrapped and stitched, while leather also wraps the door armrest, the center console armrest, and the heated steering wheel. Driver-assist technology comes standard on the Fusion Platinum along with a navigation system with SiriusXM Traffic and Travel Link to help guide you to your next destination. Outside, the Fusion Platinum is distinctively marked by a magnetic-painted sport-style grille, a power moon-roof overhead, and 19" polished aluminum wheels. 
---